Participating Restaurants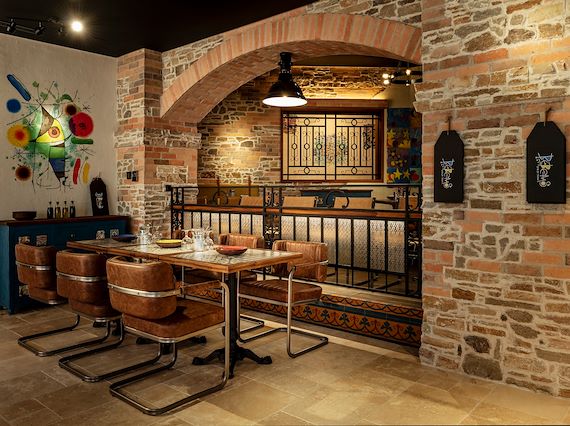 Bebemos
Barcelona Inspired Cuisine
Steering clear from Spanish clichés of bullfighting, flamenco and castanets, Le Méridien Dubai Hotel and Conference Centre is bringing Spain's most famous culinary tradition of Tapas to Dubai with Bebemos.
Taking references from Spain's culinary vibrancy and relaxed way of life, Bebemos marries robust flavours of the region with its extraordinary artistic heritage. The dining philosophy is a nod to the Spanish way of life and will stay true to the las Tapas culture of socializing, sharing food amid friendly banter and sangrias.
Open Daily
12:30 PM - 12:30 AM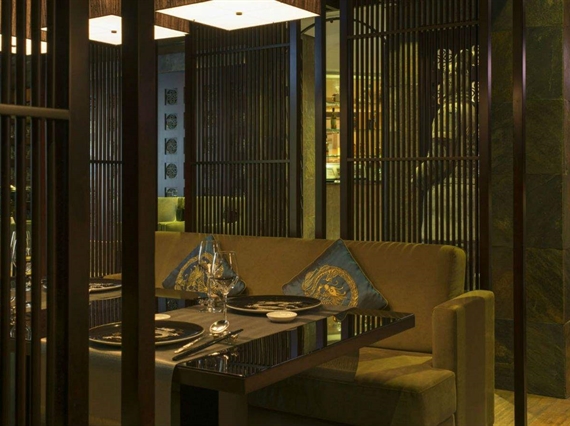 Long Yin
Traditional Chinese
Recreating the rich culinary diversity from the vast topography of China, Long Yin extends the timeless legacy of the far East to Dubai. Deeply rooted in gastronomic traditions, the offerings at Long Yin are a harmonious blend of flavours that are exquisite yet comforting.
Showcasing authentic Cantonese and Schezwan fare, the menu at Long Yin appeals to all epicureans from fine dining connoisseurs to lovers of traditional Chinese cuisine. The culinary wizards have journeyed across the landscape of Asia to source specialty ingredients from Hong Kong, Singapore and Malaysia to recreate delicacies from one of the world's most ancient gastronomies.
Long Yin's cozy atmosphere highlighted by natural dark wood panelings, adorned with traditional terra cotta warrior figurines, imperial art, and authentic flavours set the stage for guests to journey through China's exceptional culinary heritage.
Open Daily
Lunch- 12:30 PM - 03:00 PM
Dinner- 06:00 PM - 11:00 PM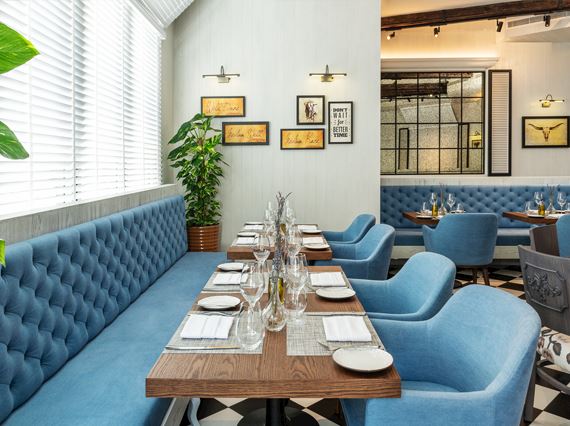 Beef Bistro
Steakhouse & Grill
Set in the centre of La Promenade at Le Meridien Dubai Hotel & Conference Centre, Beef Bistro borrows influences from the glamorous era of luxurious travel, with eclectic interiors and a choice of al fresco dining. Dishing out a wide variety of tastes. Beef Bistro focuses predominantly on fresh seasonal produce as well as prime cuts from the UK, Australia and New Zealand.
Beef Bistro is bright and airy with bar style as well as family style seating, overlooking the restaurant's fascinating ambience. Whether in small intimate groups or a large gathering, Beef Bistro is the ideal place for relaxed conversations, quality dining and an enjoyable experience.
Open Daily
12:30 PM - 11:00 PM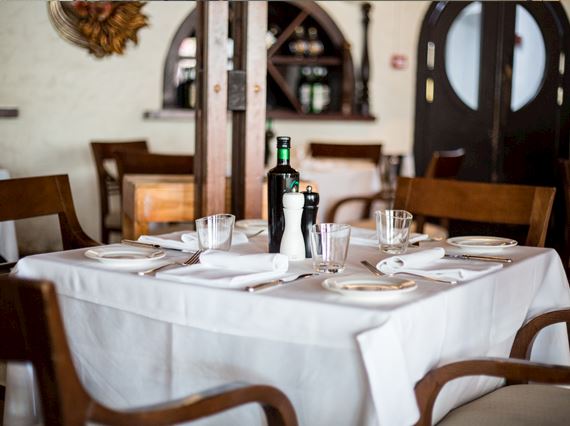 Casa Mia
Traditional Italian Cuisine
Deeply rooted in Italy's culinary traditions, Casa Mia's home-cooked Italian fare is exceptional in every way and recreates traditional specialities and regional renditions with great attention to detail. Evoking a sense of nostalgic comfort, the assorted offerings at this quaint Italian restaurant are a labour of passion which creates a wonderful symphony of flavours, texture and aroma that warms the hearts of expat residents and tourists alike.
Open Daily
Lunch 12:30 PM - 03:30 PM
Dinner 07:00 PM - 11:30 PM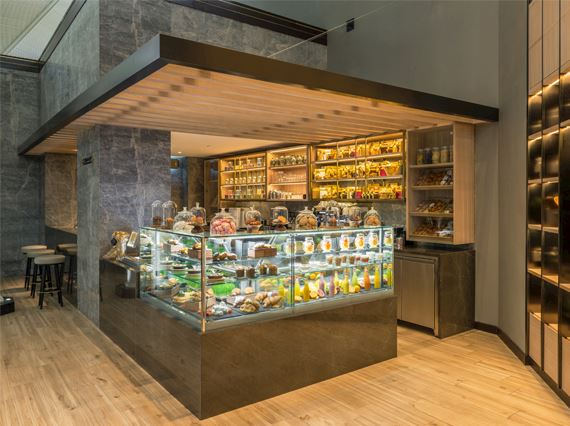 Gourmandises
Patisserie & Coffee House
Gourmandises offer a wide variety of mouthwatering delicacies such as cakes, mini pastries, tarts, and assorted chocolate praline. Tantalize your taste buds at Gourmandises for any occasion or celebration, or to simply pamper yourself.
Daily from 07 AM - 10 PM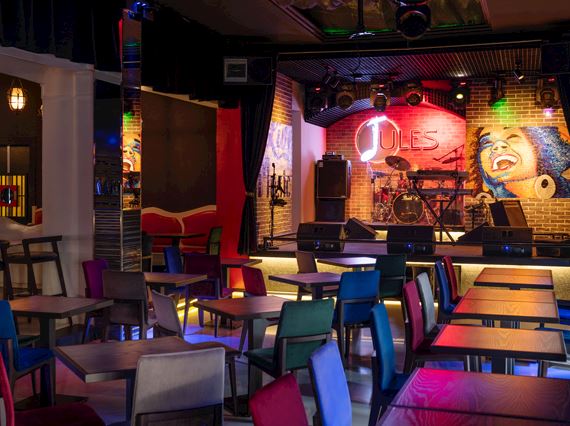 Jules Bar
Bar & Bistro
One of the first nightspots of Dubai to offer Dynamic Live entertainment, Jules has left an indelible mark on the city's nightlife scene and continues to rule the party scene among regulars and tourists alike. The lively mood at Jules grooves to the beats of resident bands while our DJ transforms the space into the ultimate party hub with an astute interplay of lights and sounds. With the mood, ambience and theme changing every night, Jules is renowned for drawing the most eclectic crowds and packs out with partygoers all through the week.
Open Daily
05:00 PM - 02:00 AM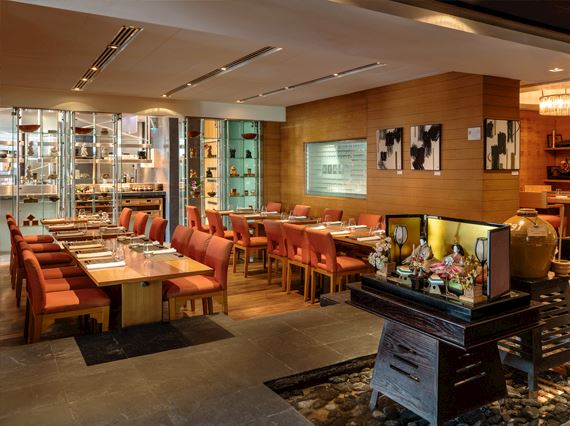 Kiku
Traditional Japanese
From its theatrical teppanyaki table to the stylish and serene Tatami room, it's clear that Kiku takes its Japanese roots very seriously. Hats off to its masterful chefs, who recreate the taste of Tokyo with the freshest sushi, sashimi and soba noodles - alongside that sizzling teppanyaki, too.
A fantastic spot for lunch and dinner, or after-work drinks with a difference.
Open Daily
Lunch- 12:30 PM - 03:00 PM
Dinner- 06:30 - 11:00 PM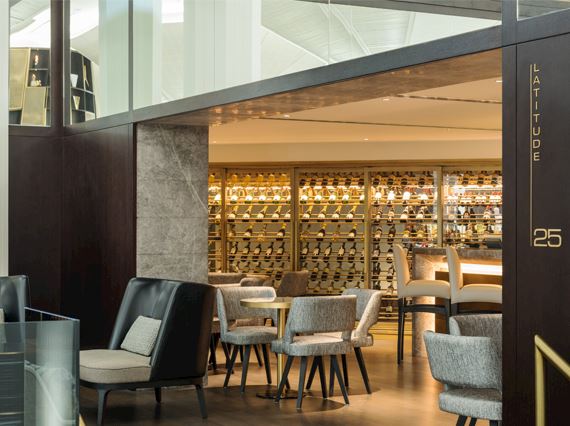 Latitude 25
Lobby Lounge
Follow the scent of freshly-brewed coffee to Latitude 25 - where you'll find artisan illy blends served alongside top-quality teas, pastries, cakes and snacks. The menu changes with the seasons, but the atmosphere remains welcoming, stylish and relaxed.
After dark, Latitude 25 swaps cappuccinos for cocktails, as this versatile space becomes an elegant nightspot - open until late.
Open Daily
12:00 PM to 12:00 AM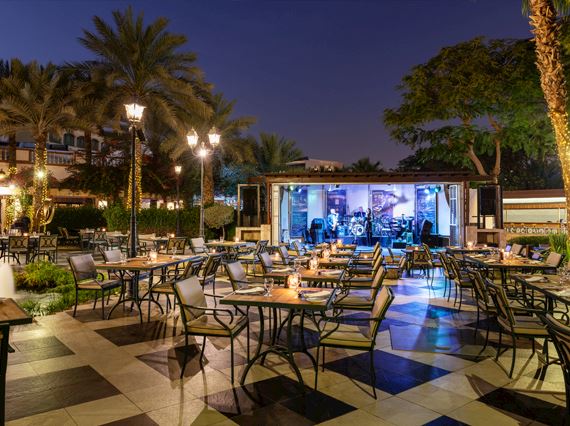 Le Meridien Village Terrace
Al Fresco Dining
As the sun sets, this beautiful outdoor piazza comes to life - with live music, open-air cooking stations, and a fabulous international buffet.

Set in beautiful gardens lit with twinkling lights, this is the perfect spot to unwind with fantastic food and drink. There's always a fun atmosphere at this relaxed al fresco spot, with great bands and theme nights to get the party started.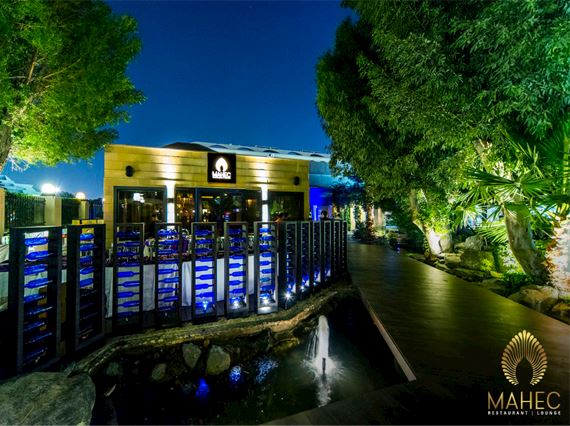 Mahec
Indian Restaurant & Lounge
One of the most anticipated restaurants in cosmopolitan Dubai, Mahec combines traditional recipes dating back centuries ...with modern palettes and styles. Start your visit with a delicious cocktail from the bar and relax before you come to the main event!
Mahec's atmosphere can be enjoyed both day and night with a beautiful landscaped outdoor seating area to soak up the sun or with a large open-plan dining room designed with luxury in mind. As you sip on your drinks you can witness the food preparation first hand with the open kitchens and tandoors.
Open Daily
Lunch- 12:30 PM - 03:30 PM
Dinner- 07:00 PM - 12:00 AM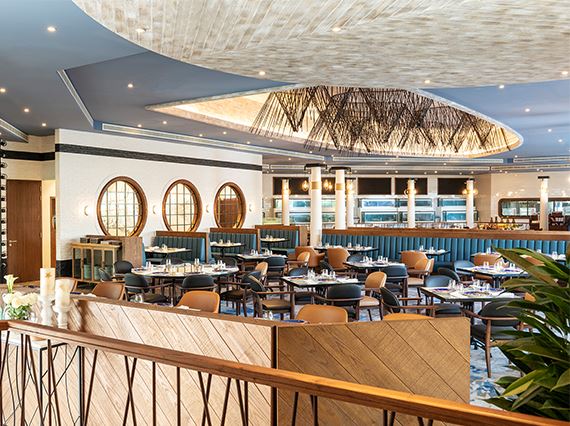 Seafood Market
Authentic Far Eastern Style
Reinventing the sea-to-table dining experience, Seafood Market was the first market-style restaurant to have opened in Dubai, in 1992, and has since been renowned for its freshest seafood. The culinary philosophy leans heavily on Far Eastern cuisine, with unique creations that tell the story of both traditional Asian specialties with a generous mix of contemporary renditions.
Synonymous with impeccable service, the award winning culinary team has curated an impressive menu with particular focus on using the finest produce and the freshest ingredients to delight patrons with an immersive dining experience. Offerings include tantalizing renditions of Asian delicacies and a stunning selection of soups and noodle dishes that are reminiscent of rustic, comforting home-style flavours.
Open Daily
05:30 PM - 12:30 AM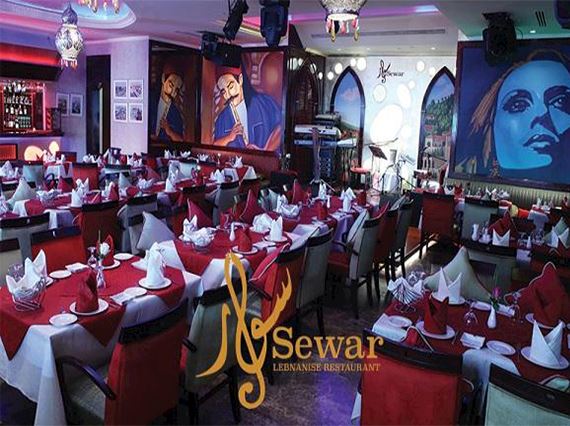 Sewar
Traditional Lebanese Experience
Nothing beats a traditional Lebanese experience where the mouthwatering food meets the best of entertainment. We invite you to enjoy a wide variety of delicious Lebanese mezza that fulfills your tastes and an exceptional entertainment show from talented singers, belly dancers and live music.
After a long day at work, come join us on the terrace and enjoy a wide variety of Lebanese goods along with Shisha and Alcohol. A special outdoor experience with a special Lebanese twist that comprises our warm special saj bread with a cheese and thyme spread to get you in a good mood.
Open Daily
02:00 PM - 03:00 AM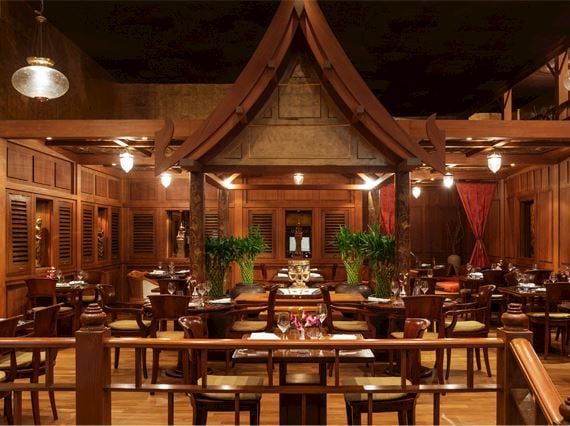 Sukhothai
Authentic Thai Cuisine
This sumptuous Thai restaurant feels like an emperor's palace - with hand-carved wooden pillars, decadent chaise longues, and fresh orchid blooms at every turn.
The food is just as spectacular, with a mix of buffet and à la carte curries, rice dishes, and noodle specialities - all imbued with authentic Thai flavours, and served on banana leaves with a flamboyant flourish.
Open Daily
07:00 PM - 12:00 AM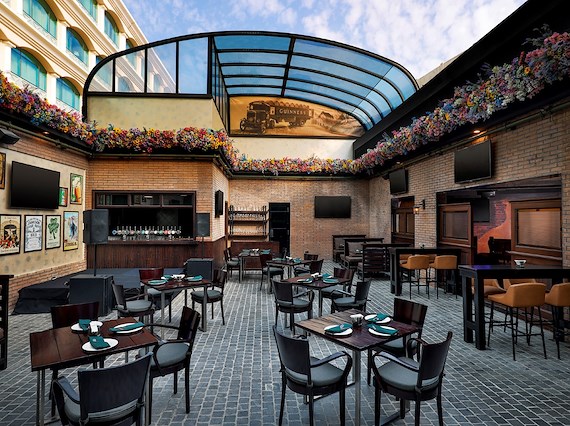 The Dubliner's
Legendary Irish Pub
Every inch of The Dubliner's is devoted to Ireland: from the live music and authentic cold beverages, to its quaint pub-style décor and hearty home-cooked fare.
This sociable spot hosts themed evenings galore, with quizzes, footie screenings, darts tournaments and more. If you're after a great pie and pint (with a good dose of banter on the side), you've come to the right place!
Open Daily
12:00 PM - 02:00 AM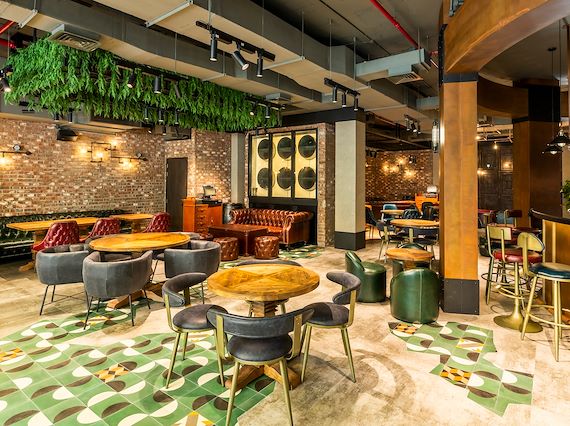 Warehouse
Restaurant, Bar & Lounge
A casual, Soho styled destination with a multitude of personalities, this restaurant, loft bar, wine cellar and beer garden at Le Meridien Dubai has something for everyone.

Distinctly different experiences on every level, no matter your requirement, from the leafy beer garden, the urban styled 'ground-floor' restaurant and bar, which serves a sturdy five-star menu, to the Asian inspired loft space where you can grab sushi, a Saki and dance the night away to guest DJs and entertainment.

Open Daily 4:00 PM - 02:00 AM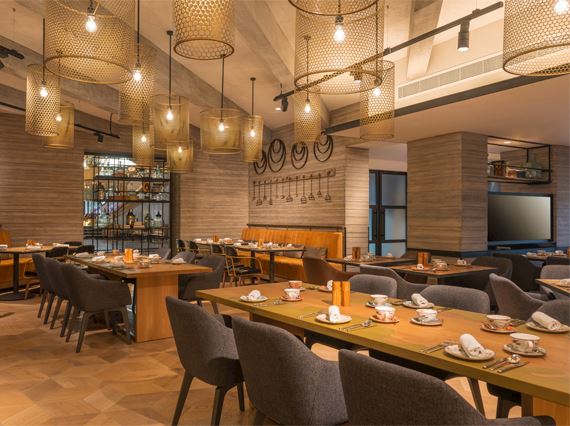 Yalumba
Modern Eclectic Cuisine
The award winning restaurant, Yalumba at Le Meridien Dubai. Its name and identity stem from the famous South Australian wine region of Yalumba which is reflected in the warm, earthy and organic interior design of the restaurant.

Suited to a relaxed and casual clientele, Yalumba plays host to several successful themed sessions and eventS. A lively Sunday Family Blunch of impeccable food, sensational desserts, liquid treats, live music and entertainment for the kids.
Breakfast 06:30 AM - 11:00 AM
Lunch 12:30 PM to 3:30 PM
Iftar Sunset to 9:30 PM